Post by Coach Campbell on Apr 26, 2021 0:10:13 GMT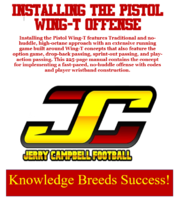 www.mcssl.com/store/jerrycampbellfootball/catalog/product/e38cb702756e49858238335acd663a36
Installing the Pistol Wing-T features Traditional and no-huddle, high-octane approach with an extensive running game built around Wing-T concepts that also feature the option game, drop-back passing, sprint-out passing, and play-action passing. This 225-page manual contains the concept for implementing a fast-paced, no-huddle offense with codes and player wristband construction.
Installing the Joker
Playside Wing - Run Buck. Wing goes in motion on te quarterbacks signal and receives the hand-off. Hand the ball off to the opposite wing underneath as he goes by.
Playside Tackle - Rule is Gap, Down, Backer. If there is a man in your inside gap, down block him or go Duece with your guard if he has no one on his inside. If man go down inside staying on your track if in Duece combo with your guard track backside linebacker while blocking back.
Playside Guard - Rule is Gap, Down, Backer unless going Duece with your tackle to backside linebacker. Also, possible ace combo with your center if he is covered and you are uncovered. Zone backside with center to backside linebacker.
Center - Rule is to reach area away replacing the pulling backside guard. If backside guard is uncovered go combo with playside guard to backside linebacker.
Backside Guard - Trap pull to playside kicking out the edge defender.
Backside Tackle - Rule is gap henge. Step inside looking for a slanting defensive end or a blitzing linebacker. If no one threatens your "B" gap then hinge backside on first defender off the edge.
Tight End - Pull playside looking to lead up in the hole on the playside linebacker or first opposite colored jersey you see.
Backside Wing - Ball carrier, Jab step to make it look like you are going to block for Buck. Open to inside and get depth towards the other wing receiving the ball on your outside. Ball carrier will follow his tight end through the hole.
Receiver (X) - Stock block the corner.
Fullback (3) - Fake Trap - You go before the Wing so you must attack the playside "A" gap on the snap of the ball. Open your arms and cradle as if you have the football as you run towards the line of scrimmage. Fullback must carry out a great fake to freeze the inside linebackers.
Quarterback - Drop your backside hand to start the Wing in motion and snap the ball as the Wing takes his second step. Hand the ball to the Wing on the inside and then fake boot. Get into pitch relationship with the Wing so that he can pitch the ball if he needs to. Get 7 yards away and 2 yards for possible pitch down the field. behind